The 2011 Georgia Country Awards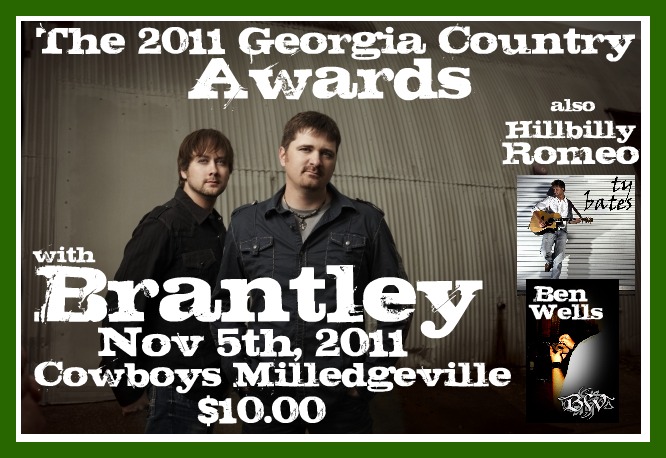 The 2011 Georgia Country Awards was held, Saturday night, November 5th at Cowboys in Milledgeville. Brantley (formerly Deepstep), the 2011 Georgia Country Artist of the Year, headlined with Hillbilly Romeo, Ty Bates and Ben Wells opening. The Overall Artist of the Year will receive a trophy and a prize package which includes a profile page on Georgia-Country.com, shows booked through GC in 2012, a professional photo shoot by TSJ Multimedia in Athens. (www.TSJMultimedia.com). Trophies and Awards provided by Unimarble of Norcross, Ga. (www.unimarble.com). Professional photography on the night provided by KombatKamera.com - Photography by Mike Clifton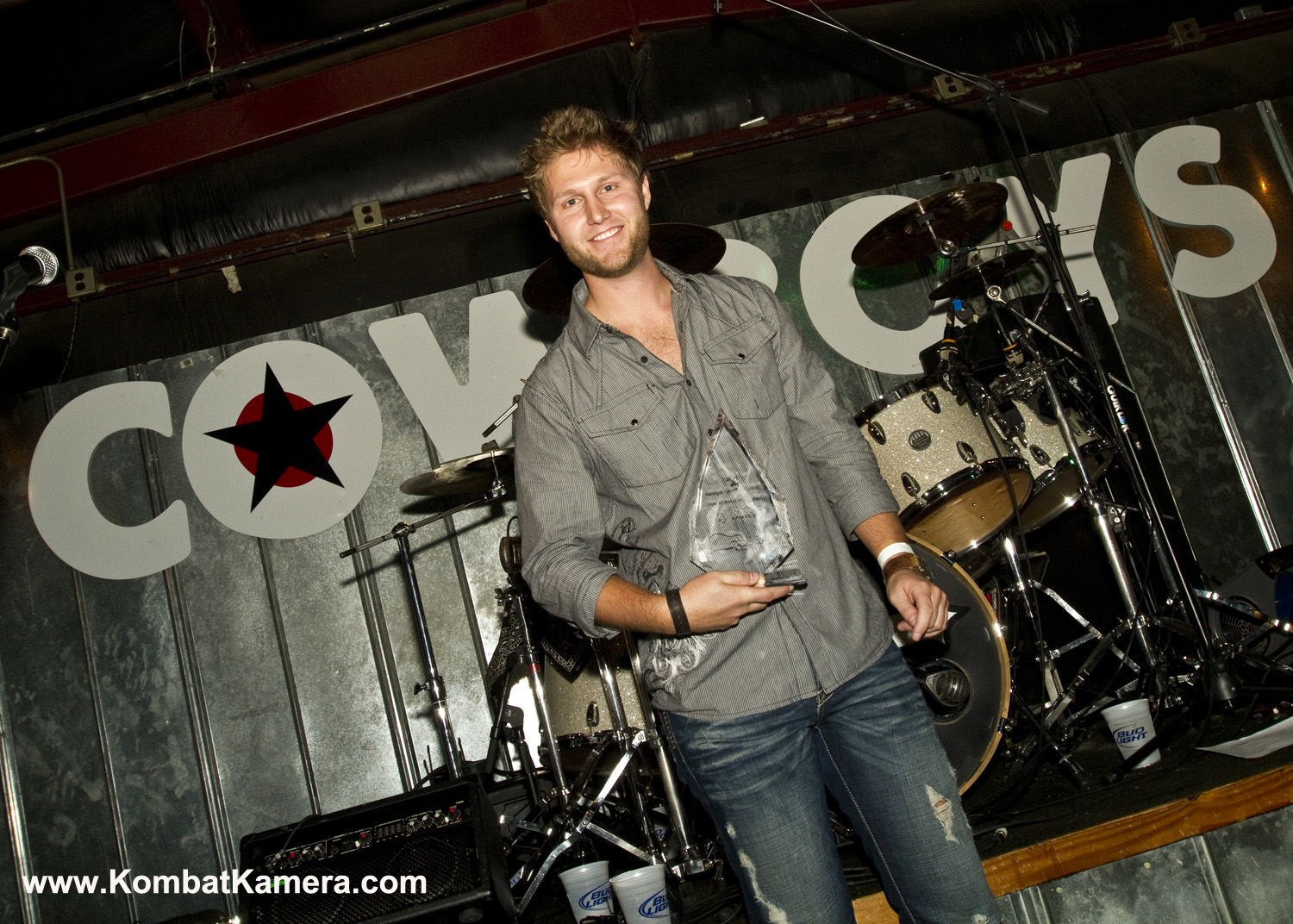 Ty Bates (at right) won the Overall Artist of the Year. 2011 was a great year for Ty as he won the "Sing it like Jake" contest and opened for Jake Owen early in the year. He again opened for Lonestar at Wild Bills during the summer. Also, he was hired by the Carolina Opry. He performed there for two months, then returned back to Georgia. He was invited by Kicks in Atlanta to perform at the Atlanta Finals of the Texaco Colgate Country Showdown.
Ricky Gunn (right) won the Male Artist of the Year, voted by the readers of Georgia-Country.com. Ricky hails from Palmetto, Ga and has fast become one of the popular singers in that area as well as the state. He's fast growing as a song writer and continues to work on projects as his own band as well as new Georgia band, Crossing Levi.
Lauren Ashley won the Female Artist of the Year, voted by the readers of Georgia-Country.com. Lauren has come on strong on the scene the last six months. She has opened for Ronnie Milsap and Luke Bryan. Her music has regularly been heard on The Bull Atlanta's Backyard Country. She recently played at the Country Music Hall of Fame in Nashville. She continues to build a following with her music and strong songwriting talent that appeals to today's audience.
Allatoona won the Band of the Year Award. They are based out of Atlanta. They play Country and Classic Rock covers. The members of Allatoona are; Karen Dedier, John Hirt, Jon Bailey, Joe Zummo, and Gale Fulton. Each member has different musical influences from classical, country to alternative and many styles in between. This gives Allatoona their unique and exciting sound.
Meagan Kerns won Teen Artist of the Year. She is from Broxton, Ga. She has developed respect not only locally but in Nashville at such an early age. She not only sings but is an established songwriter. She currently attends South Georgia College to complete her degree in business and then will pursue her career in music.
Other winners on the night were:
Favorite Regional Act - Jared Ashley
Favorite Country Bar or Club - Whiskey River - Macon
Favorite Small Music Venue - The Melting Point - Athens
Favorite Large Music Venue - Wild Bills - Duluth
Favorite Place to country dance - Cowboys - Milledgeville
Favorite National Act - Brantley Gilbert
Favorite Radio Station - The Bull - Atlanta
THE 2011 GEORGIA COUNTRY AWARDS SHOW - COWBOYS - MILLEDGEVILLE - NOV 5TH, 2011
PAST WINNERS
2008 = ARTIST OF THE YEAR - ROSS COPPLEY
2008 = BAND OF THE YEAR - CARLA TATUM BAND
2008 = MALE ARTIST OF THE YEAR - ROSS COPPLEY
2008 = FEMALE ARTIST OF THE YEAR - CARLA TATUM
2008 = TEEN ARTIST OF THE YEAR - RACHEL FARLEY
2009 = ARTIST OF THE YEAR - THOMAS TILLMAN
2009 = BAND OF THE YEAR - DEEPSTEP
2009 = MALE ARTIST OF THE YEAR - THOMAS TILLMAN
2009 = FEMALE ARTIST OF THE YEAR - HANNAH THOMAS
2009 = TEEN ARTIST OF THE YEAR - RACHEL FARLEY
2010 = ARTIST OF THE YEAR - DEEPSTEP
2010 = BAND OF THE YEAR - DEEPSTEP
2010 = MALE ARTIST OF THE YEAR - SCOTT LITTLE
2010 = FEMALE ARTIST OF THE YEAR - HANNAH THOMAS
2010 = TEEN ARTIST OF THE YEAR - RACHEL FARLEY