Georgia-Country.com Artist of the Month
On a monthly basis, Georgia-Country.com spotlights a Georgia artist that we feel is furthering their career in country music. Below is our current artist of the month. We hope you enjoy reading their interview and getting to know this artist more. Be sure to check out their music, videos and schedule for the month. If you are a Georgia-based artist, 18 and over, and would like to be considered for Artist of the Month, please contact us with your name and a website to review.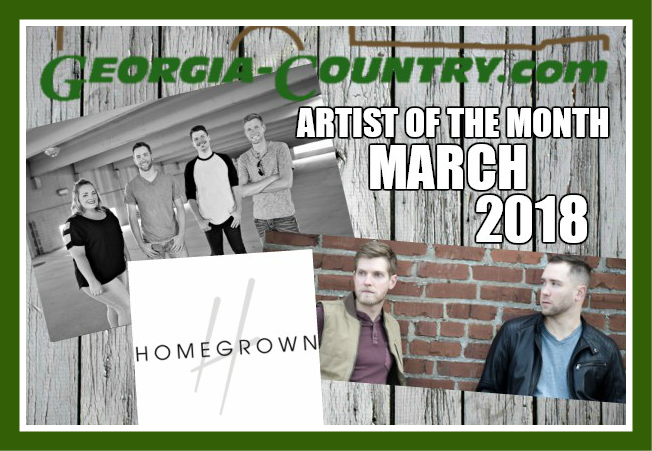 Our March Artist of the Month is Homegrown. Read their interview below as GC catches up with Homegrown and discuss their career. Then check out their music in videos at bottom of page.
GC: Lets get Georgia familiar with you all. Where is the band from, when did you start as a band?
HG: Homegrown is from Carrollton, GA. At an early age, we first started playing bluegrass and Christian country at local churches in the West Georgia area. In 2012, we released our first self-titled country EP. And have been chasing this crazy dream ever since.
GC: To Craig and Kevin,, being brothers,, did you all get interested in music at the same time?
HG: Being so close in age, (less than 2 years apart) I think we both started getting into music around the same time. I can remember sitting around at our little cabin on Lake Wedowee listening to some of our Dad's friends play and sing some old country songs and trying to keep up with them on an old Yamaha guitar we had. This was one of those guitars that you had to press the string as hard as you could and felt like your fingers were going to bleed when you were done.
GC: Was it easy to pull together a band or what were any challenges?
HG: I think we were always lucky enough to have the right people be there at the right time. I wouldn't trade anything for the experiences and good times we have had with our band mates over the years. However, we are definitely excited about getting back to our roots and making great music as a brother duo again.
GC: Describe the band in what all you cover, any original material and maybe what band today or in the past you would best compare yourself to?
HG: When you come to a Homegrown show there will be a little bit for everybody. You will be sure to hear original songs from Homegrown as well as modern country covers to some old classic country. There is also a good chance you will hear an 80's cover or two and maybe even a little bluegrass. You never know what might make it into the set list that night! I think you can now probably compare us to a modern day Brooks and Dunn!
GC: What is the band's favorite place to play and why?
HG: The Amp, our amphitheater in our hometown. There's nothing like our home crowd and our fans that got us where we are today!!
GC: If there is one, what would be the most funniest moment on stage for the band?
HG: We don't really have any mishaps on stage, YET! Lol but we had a show in south GA one time and had to crash at a friend's house. I realized I'd forgotten all of my toiletries, soap, shampoo and such. Well I was plundering through the cabinets in this bathroom and found some shampoo that read "Black Velvet." Got to washing my hair and realized it had a strange smell! So, I read the label and it said, "wash dog thoroughly!" Haha, yep, I used dog shampoo! -Craig
GC: What has been the highlight of the band's career thus far?
HG: Having our latest single, "Throwback" music video featured on GAC!! So amazing and exciting!
GC: If you could open up for a major act, who would that be and why?
HG: Mine would always be Alan Jackson! As a 90's country guy he has always been one of my all time favorites. I can just really connect with his songs about simple, small time life and he grew up close to where we are from! -Craig Keith Urban. Not only is he an incredible musician and talented artist, but I feel like he would be a great mentor and be a lot of fun out on the road. Someone we could learn a lot from. -Kevin
GC: What plans does the band have for the rest of the year?
HG: Homegrown is currently writing new material and will be heading back in the studio this Spring to cut a new EP. So be on the lookout for new music and a busy summer tour schedule! You can find more at HomegrownBand.com