Georgia-Country.com Artist of the Month
On a monthly basis, Georgia-Country.com spotlights a Georgia artist that we feel is furthering their career in country music. Below is our current artist of the month. We hope you enjoy reading their interview and getting to know this artist more. Be sure to check out their music, videos and schedule for the month. If you are a Georgia-based artist, 18 and over, and would like to be considered for Artist of the Month, please contact us with your name and a website to review.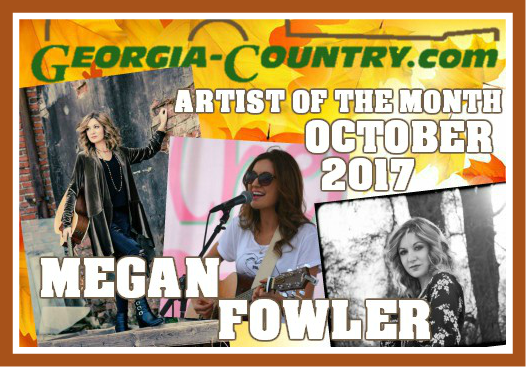 Our October Artist of the Month is Megan Fowler. Read her interview below as GC catches up with a former Georgia Country Awards winner. Then check out her music in videos at bottom of page.
GC: Megan lets bring new fans up to date with you. Where were you born, raised and a little bout your current life today?
MF: I was born and raised in Taylor County, Georgia, just south of Butler. If you've ever heard of it, then we're doing pretty good, I'd say. I grew up in the country so I am definitely a country girl at heart. I currently reside in Nashville, TN and I'm doing what I love... music!! The traffic here is taking some getting used to, but over the last few years traveling back and forth here, it has grown to become home for me.
GC: Who were your early influences in music?
MF: My earliest influences in music were most definitely Celine Dion and Loretta Lynn.
GC: Was there ONE moment that made you WANT to be a country artist for a living?
MF: I don't think there was one defining moment where I knew that I wanted to be country artist, I think I just kind of always knew. I started singing in church, then once I got older, I took an interest in guitar and started getting asked to sing at local events. I think that's when I really knew that country music is what I wanted.
GC: What one artist has influenced you most the last five years and how?
MF: I think, for me, the one artist who has influenced me the most in the last five years would be Ashley McBryde. Her style of writing and music is different from mine, but it's the story that she tells when she writes her songs and sings them that intrigues me. Following her and her journey/story has been a huge encouragement and push for me especially in my writing. When you hear her music, and how raw and truthful it is, it just makes me want to tell my story through my own songs that much more. If you haven't heard her music, you MUST go check her out!
GC: You've played many venues and events over the years. What has been your favorite to play?
MF: That's a tough one, but I do think that it would have to be a tie between two venues/events... The Crazy Bull in Macon, GA (it's always a good time), and opening a show for Luke Combs at Dillinger's in Americus, GA. There's something about hometown shows that you'll never forget and they will always be special to you.
GC: You've wrote many of your own original songs. Is there any one song that has been a favorite for you and why?
MF: I think if I had to choose one of my originals that is my favorite, it would have to be Every Sunday Mornin'. This song has done a lot for me and is the most requested at my shows. There's no other feeling than having a random person, that you've never met, request one of YOUR songs at your show. It is probably the most raw and sarcastic song that I've ever written, but the most fun!
GC: You are one of the most Award winning singers in Georgia the last several years. Winning TWO Georgia Country Awards and TWO Georgia Music Awards. How has winning those award affected your career?
MF: Winning those Georgia Country and Georgia Music Awards was such a huge honor for me. I honestly never expected it. These awards have definitely allowed me to get some bigger shows that I might not have had the chance to get otherwise. I will always be grateful to those who have supported me and are supporting me throughout my career.
GC: If you could go on tour with any one artist, who would that be and why?
MF: If I could go on tour with one artist, it would definitely have to be Shania Twain. I think she would be a great person to learn the ins and outs of the music business from. I think she could also give me advice on what it takes to be a national and international touring artist. Plus, I think she really would want my help on saying "Let's go girls." HaHa!
GC; You recently moved to Nashville. What brought you to that decision and what advise would you give any artist thinking of moving to Nashville?
MF: I've travelled back and forth to Nashville for several years and I finally knew that it was my time to take my chance on fulfilling my lifelong dream. And that's exactly what it is... a chance. There are no guarantees in this business, but without taking that step and that risk, you will always wonder "what if?" I don't think you should live your life with regrets. So, to any artist thinking of moving to Nashville, take that leap, run with it, and don't look back.
GC: What are your top three items on your bucket list to do in your career?
MF: The top three things on my bucket list for my career are: 1) Sign with a major label, 2) Write two #1 hit songs... One for me, and one for another artist. and 3) Headline a national and international tour.