Georgia-Country.com Artist of the Month
On a monthly basis, Georgia-Country.com spotlights a Georgia artist that we feel is furthering their career in country music. Below is our current artist of the month. We hope you enjoy reading their interview and getting to know this artist more. Be sure to check out their music, videos and schedule for the month. If you are a Georgia-based artist, 18 and over, and would like to be considered for Artist of the Month, please contact us with your name and a website to review.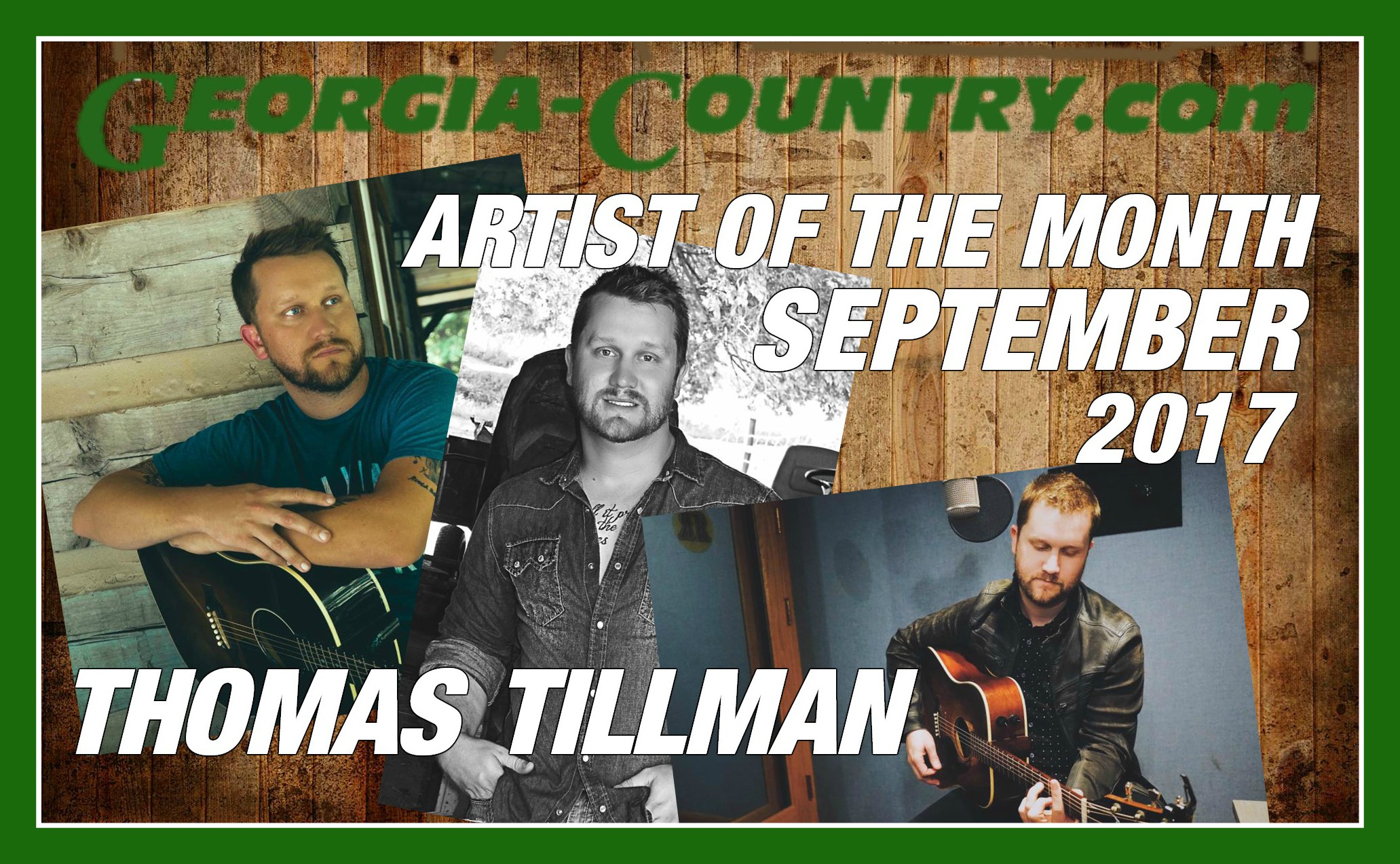 Our September Artist of the Month is Thomas Tillman. Read his interview below as GC catches up with a former Georgia Country Awards winner. Then check out his music in videos at bottom of page.
GC: Thomas, lets remind everyone where you were born, raised and also, whats your family life like today?
TT: I was born in Decatur, GA, raised in Valdosta and Conyers Ga. my family life today is amazing. I have a two year old boy named Harrison. He is amazing and a huge inspiration in every aspect. He loves music and he has it in his soul. Boy loves soul music. His middle name is Ray after Ray Charles. ;)
GC: Who were your early influences in music?
TT: Otis Redding, Garth Brooks, Conway Twitty, Ray Charles, Sting, Led Zeppelin , Boyz II Men. any blues or soul music. I loved it all really.
GC: When did you learn to play guitar and did it come easy for you?
TT: I was 15 when I learned to play guitar. It was never easy to me. But I practiced almost everyday. So it is a little easier now :)
GC: You're now a "veteran" in the music business in Georgia. What would you say has been your favorite place to play over the years and why?
TT: I loved playing at Wild Bills and Cowboys. But now I love playing Brickhouse in Newnan Ga. It has a great atmosphere and people.  The stage is also great. One of my fav. Places to play for sure.
GC: You recently signed a publishing deal in Nashville. How did that change your career?
TT: It's my second deal in Nashville now, Great team I'm working with. WOMP( write on music) They are hard workers and very open minded to my style writing. I get to write for my self as an artist and write for other artists. Craig Wayne Boyd just cut "only in my mind" that Chad Tyler (Georgia Native) and I wrote.  Super stoked about that. Make sure you buy his album ;)  yes I just plugged his album. Hahaha.  Also I wanna give a shout out to Jacob Bryant for recording "Womans Touch". One of my favorite songs I have written, he does great on it and the music video went Number one on CMT! Congrats bro!
GC: You play in Nashville often. What kind of advise would you give other singers about playing Nashville?
TT: Play YOUR music. Also to get a good following play around town. Just not for to long. Build a following and focus on yourself as an artist. Super important.
GC: You were one the FIRST Georgia Country Awards winner. How did that effect your local career?
TT: It helped me a lot. With shows up to confidence in myself and career. I appreciate it so much and I'm very grateful. I feel like it gave me a push to move to Nashville.
GC: What is next on your bucket list to do in your career?
TT: Play the Opry, share the stage with a couple of my heroes and write a couple of number ones. I'm sure more items. Just brain freeze right now lol. It's a loaded question.
GC: If you could go on tour with any artist in country music, who would that be and why?
TT: Chris Stapleton or Jason Isbell. Even though Jason isn't 100% country music he is an amazing writer and singer.  Chris is the same. I love artist who can write and sing amazingly . It's refreshing.
GC: What plans do you have for the rest of 2017?
TT: Play more shows . Get more songs cut with different artist. Working on my new EP. And getting into Producing different acts. And the most important thing I'm doing this year is raising my beautiful Son! He is my number one priority. I'm super blessed to be able to have the career God has gifted me with. Without him and my fans (friends) I wouldn't be able to do it. Thank you all. And thank you Georgia Country for your support.