Georgia-Country.com Artist of the Month
On a monthly basis, Georgia-Country.com spotlights a Georgia artist that we feel is furthering their career in country music. Below is our current artist of the month. We hope you enjoy reading their interview and getting to know this artist more. Be sure to check out their music, videos and schedule for the month. If you are a Georgia-based artist, 18 and over, and would like to be considered for Artist of the Month, please contact us with your name and a website to review.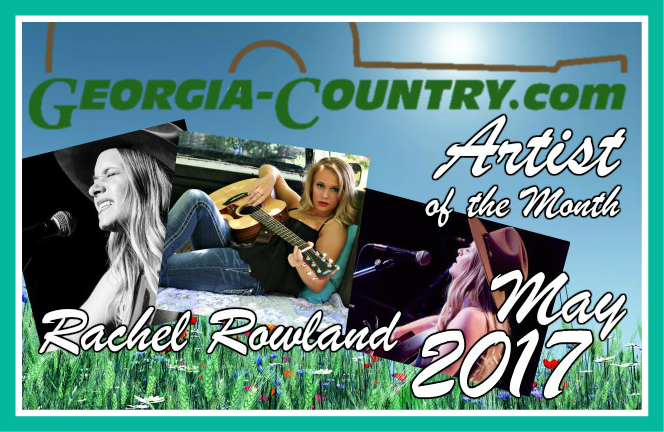 Our May Artist of the Month is the Rachel Rowland. Read her interview below as GC asked her questions about her career in country music.
GC: Rachel, lets get to know you. Where you born, raised and a little bit about your family today.
RR: Thank you so much for the opportunity and recognition, I feel honored! I was born right here in North GA, Marietta specifically. I grew up in a few different cities around the area and am relocating to Nashville, TN in June for a change of scenery and to further my music career. Many people don't even know that I'm moving yet! I guess that cat's out of the bag now. My family is wonderfully supportive of my career. They all want to see me succeed and are always optimistic as to what I am able to accomplish. They are my backbone for the tough days and I can always count on seeing their faces in the crowd no matter how small the show. I believe that I'm very lucky to have such an incredible support system behind me!
GC: You learned to play piano at the age of three. Was that thru lessons or a natural gift?
RR: So, piano was my first instrument besides voice (I've been singing for as long as I can remember). Mom shoved all of us kids into music lessons when we were very young and boy, I fought her the whole way! I've always been musically inclined but I suppose it was probably very difficult to get a 3 year old to focus on something so complex. Little did I know at the time that piano would become my foundation for every other instrument I learned how to play. I still have my piano and still pull the bench out occasionally, but I've definitely shifted focus to guitar by now. I'm also teaching myself to play the fiddle!
GC: You mentioned that Patsy Cline was a singer you grew up listening to. What about Patsy inspires you most?
RR: The reason that I resonate so much with Patsy is kind of silly, but dear to me. I have very fond memories of my grandmother singing "Crazy" to me all the time when I was little. It's one of my very first and very favorite memories. As I got older and more experienced with music, I was able to explore her work further and appreciate it even more. She was a wonderfully talented lady!
GC: You write your own material. What is your favorite kind of song to write? Ballads, upbeat, fun songs, etc?
RR: I'm an extremely happy and content woman, but for some reason my songwriting always seems to get extracted from deep, dark places. I tend to be very empathetic when I write, whether it be for others or myself; it's what inspires me. I go through phases in my writing (as any songwriter does) where I take on different personas in my material. The first few songs I wrote to go on my upcoming album are all storytelling songs; they were written from the perspective of someone on the outside looking in. Most of the rest of the album, though, was pulled from a personal experience I went through last year. Right now I'm trying to get out of that rut and get back to writing some different material. I got some incredible songs out of it, though, so I'm certainly not complaining!
GC: What current singer inspires you most and why?
RR: That's a really tough question. Can I just attach a list? Joking, but really. The first person that always comes to mind is Alison Krauss. She's a natural talent; I resonate with her a lot because I grew up listening to her stuff with Union Station. She's always done her own thing and I admire that. Any other artists I mention are probably not going to be very well known by most people (which is a shame, but if I can help them gain some new fans I'm happy). Mandolin Orange is a huge influence for me, they're a small folk duo I've been following for a few years. Loretta Lynn, Gillian Welch, Patty Loveless, Brent Cobb, Rayland Baxter, Jason Isbell...
GC: You perform often in the north Georgia area. Where do you enjoy playing most and why?
RR: Anywhere that the audience listens! I'm big on appreciating the art of songwriting. Rowdy shows are lots of fun, but they can tend to make the artist feel unappreciated. If the crowd is genuinely listening to the music and having a good time because of it, then great! But watching a crowd enjoy the show through a cell phone lens can be a little disappointing. Any venue that encourages a listening room environment is my favorite.
GC: Do you had any real funny stories to tell from the stage?
RR: Nothing spectacular comes to mind, but I used to have really bad stage fright. Still gets to me every once in a while. When I was about 12, my mom volunteered me to sing the national anthem at Kennesaw State University's televised basketball game. I was so nervous! For some reason, I decided to wear heels and ended up shaking so badly the entire time I was singing that you could see it on the program. Now I stick to cowboy boots. I'll have some better stories for you in a few years.
GC: If you could open up for any one artist, who would that be and why?
RR: Again, definitely Alison Krauss. Loretta Lynn is pretty high on that list as well. The goal is to share a bill with them one day, Opry maybe?
GC: What has been the biggest moment yet in your career?
RR: I've had several big moments but I feel like I've still got such a long, wonderful road ahead of me. One of the more recent moments was getting to hear my song played at a swing dance event, watching a building full of people dance to one of your original songs is pretty hard to beat. Hopefully it will be a stadium one day.
GC: What do you have planned for the rest of the 2017?
RR: As I mentioned in the first question, I'll be moving to Nashville in about a month! I'm very excited, and a little nervous. I'm kind of flying by the seat of my pants and things are moving very quickly, but it will be worth it. I'm hoping to get settled in the city for the first month or two and then get down to business with music... That includes figuring out a way to finish my album. I'm hoping to have the album completed by this fall or the end of the year, along with promoting it and hopefully planning a tour. I'm almost done with my nursing degree, so that's towards the top of the list as well. Lots of big changes for me in the near future!
For more information on Rachel Rowland, go to RachelRowlandMusic.com