Georgia-Country.com Artist of the Month
On a monthly basis, Georgia-Country.com spotlights a Georgia artist that we feel is furthering their career in country music. Below is our current artist of the month. We hope you enjoy reading their interview and getting to know this artist more. Be sure to check out their music, videos and schedule for the month. If you are a Georgia-based artist, 18 and over, and would like to be considered for Artist of the Month, please contact us with your name and a website to review.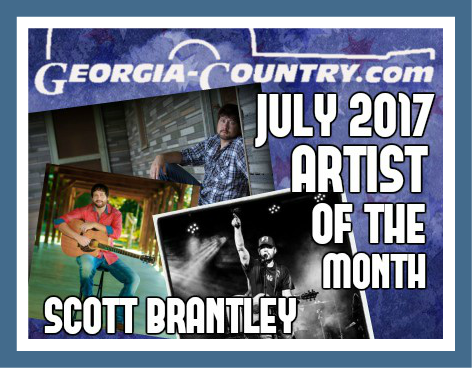 Our July Artist of the Month is the Scott Brantley. Read his interview below as GC catches up with a former Georgia Country Awards winner. Then check out his music in videos at bottom of page.
GC: Scott, lets catch you up with the country music fans in Georgia. How has your life changed since signing with Studio Gold Nashville?
SB: Signing with Studio Gold Nashville was a very cool moment in my music career. It made me feel like someone within the industry believed in me as a songwriter and also as an artist. When I signed initially, I signed to the SGN Publishing team to write songs. But, upon recording a demo for the song "Good Thing Going", Mike at SGN signed me to an artist deal on the record label as well and we were off and running. Through these signings I've been able to meet a ton of great writers, artists and radio personalities in the industry. It also opened doors for me as a touring artist for shows. It's been great and I love being a part of the SGN Team!
GC: You're a former winner in the Georgia Country Awards? Do you feel that accolades such as that has helped your career?
SB: Yes, I think so. People always recognize those accolades when I'm out and about. Whether it be a booker for a venue or a DJ at a radio station. Those awards are things that were brought about by hard work and dedication to my craft, and I'm proud to say that I've won a couple of the Georgia Country Awards over the years.
GC: What is the biggest difference in being a "local" act in Georgia to now in Nashville and competing with the best?
SB: Personally, I have never looked at making music as a competition. Sure, if you want to call accepting an award a competition, then I guess technically it is. But, for me it isn't about that. I'm just always trying to write the best songs I can, and record the best songs I can to give the fans. Whether it be on a "local" level or a "regional/national" level, I just hope I can find a spot to land for my fans to be able to enjoy what I do.
GC: With the "bro" country being more of the rage in country music the last few years, how have you kept from falling into that sound?
SB: Honestly, I just write songs that mean something to me and record those that I am feeling good about when we go into the studio. I don't think much about tags on music or care much for them. I just hope people know that I always write and record music that is true to me and who I am, and mean something to me. They can be fun, sad, or just meaningful in lyrical content, but they are always true to the person that I am as an artist. Being a big fan of a more traditional sound, I hope that when people hear my music they know I'm a country music artist first and foremost. I'm sure my influences will come through in whatever we do, but I always hope to be recognized as a true country music artist and songwriter.
GC: Do you feel "bro" country is now the norm or are we moving back to a more traditional sound?
SB: I'm not exactly sure. What I've always kind of done I think has always had more of a "neo-traditional" sound, so if that's the shift, then I'm open to it, haha. I believe with the emergence of more lyrically driven artists like Chris Stapleton, that has certainly opened the door a little more for artists who do that sort of thing. I do believe a more traditional sound will be heard on radio before too much longer just because I think it's cyclical, like anything.
GC: Speaking of traditional sound, who other traditional country acts that are new, do you like?
SB: Well as far as mainstream goes, I really dig what I've heard from William Michael Morgan. I like Easton Corbin a pretty good bit too. He seems to always have more of a neo-traditional sound to what he does. I like several things that I've heard from Jon Pardi. Mo Pitney is an exceptional singer with a heavy traditional sound. He's great. Then there are several Texas artists that I like. Wade Bowen, Cody Johnson, Cody Jinks, Midland, Aaron Watson. All those guys have good stuff to me and I'd love to hear more of their style on mainstream country radio. That's where they belong.
GC: Of all the acts in country music history, who has been your favorite and why?
SB: For me, it has to be Haggard. Mainly because he was my Dad's favorite I guess. But, not only that, he wrote just about everything he recorded. He always did his own thing and stayed true to who he was. His sound changed over the years with the times, but his lyrics were always deep and meaningful in just about everything he's ever done. He always had great musicians on his records and on the road with him. Being a guy who has a passion for good musicianship, I always loved that about Merle's music. He let his band shine too, and man they were good! There are others on my Mount Rushmore of country music (Strait, Jackson, Gill, Whitley), but Merle sits just above the others. He was a true triple threat too. He wrote his own songs, was an incredible singer, and could burn a guitar up.
GC: With signing a recording deal. What advised would you give to any artist being offered a deal?
SB: I think first and foremost make sure whoever is offering the deal believes in you as an artist/songwriter or whatever you are choosing to do. Just make sure it isn't for their own personal gain and they have no interest in your wellbeing. I'm very fortunate to have a label that believes in me and what I'm trying to do as a songwriter and as an artist. I never felt like they are trying to take me down a road I do not want to go down. We work together on everything, and it's a very transparent working relationship. Also, don't be scared to ask questions. Take the time to understand everything about the deal you are being offered. Don't get caught in a deal that doesn't work for you. If you feel something isn't quite right about it, then chances are your gut feeling is right. Voice your concerns, and talk to others who may be or may have been where you are.
GC: Of all the songs you've wrote, what is your favorite and why? That's tough, but I think probably a song called "That's All I'm Living For". It was a song that I wrote for my Dad a few years ago. He was there the first time I played it in front of anyone, and I think it meant a lot to him. It kind of tells a story of how my dreams changed over my years of growing up. And now that I'm older, if I can be anything, I'd be just like him. A great husband and father. That's what life is all about for me.
GC: What do you plan for the rest of 2017?
SB: Well, we released my debut album on the Studio Gold Nashville record label earlier this year, so we're out playing shows promoting it. We have just released another single, My Cooler. It's a song that's been around with me for a few years, but finally we had the opportunity to release it nationwide as a single to country radio, so we're working shows and visiting radio stations promoting it. Between playing shows and visiting stations I've also been writing for album number 2. So we have some new material that I hope to get into the studio and record before the end of the year. Other than that, just playing as much as we can, and in my downtime spend as much time as I can with my family.
For more information on Scott Brantley, go to ScottBrantley.com