Georgia Statewide Country Music News
This page is dedicated to news around Georgia about artist, bands, venues, etc. If you have any news you would like to share on GC, please drop us a line at info@Georgia-Country.com
GEORGIA COUNTRY RADIO LEGEND, RHUBARB JONES PASSES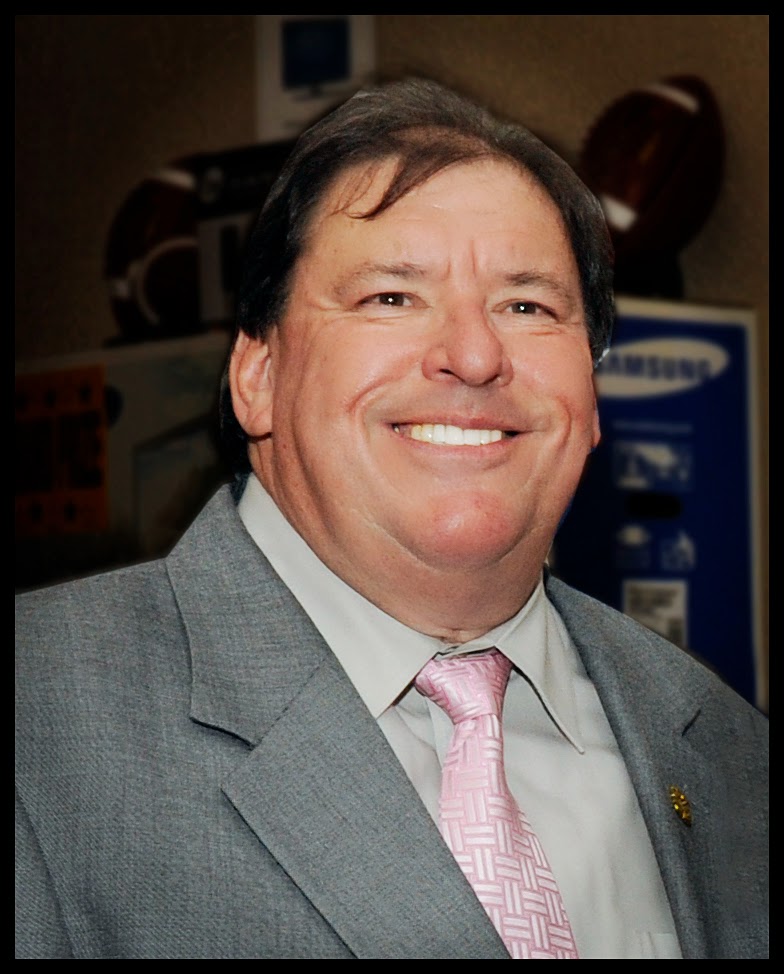 (April 3rd) Legendary Atlanta radio host Warren "Rhubarb" Jones died of a heart attack yesterda, Sunday afternoon, April 3rd. He was 65. Funeral home owner Tammy Miller of the Miller Funeral Home in Tallapoosa confirmed the news to Rodney Ho, of the Atlanta Journal-Constitution, on Sunday afternoon. "I last saw him about six months ago. He invited me to a Chamber event up in Kennesaw and I spent an hour just talking about my job and the media business. I've also been a guest instructor a couple of times when he taught journalism," Ho said in his Radio and TV Talk blog Sunday. Jones was a morning host at what was then Y106 and then Eagle 106.7 from 1985 to 2008. He then worked at Kennesaw State University as a development officer and media instructor. Jones ran a celebrity golf tournament for more than 18 years for the Leukemia & Lymphoma Society, raising more than $3.5 million. KSU sent a statement saying: "The entire Kennesaw State University community is mourning the loss of colleague and Georgia radio pioneer Rhubarb Jones, who died today at the age of 65. Jones, who joined Kennesaw State in 2008, served as senior director of development and as a faculty member in the School of Communications. He was one of the most popular professors among the communications students and a passionate supporter of KSU. "This is a very sad day for all of us," said KSU President Sam Olens. "Rhubarb always had a smile on his face, a generous spirit and was dedicated to helping others. He was a truly authentic individual, his death is a great loss and we will all deeply miss him. Our hearts, thoughts and prayers go out to his family." NOTE: Georgia-Country.com recently interviewed Jones. You can read his interview on the Crystal Peach page. (Sources: AJC.com)
MATT ROGERS JOINS PLA MEDIA

(March 10th) 2015 Georgia Country Awards Male Artist of the Year, Matt Rogers, has joined the PLA Media roster in Nashvile. PLA Media, which also includes the Johnny Cash Museum, Americana Music Triangle and singer-songwriter Jesse Rice. Rogers is set to release a new EP in 2017. "It is very exciting to partner with a company as prestigious as PLA Media for the upcoming release of my new EP and transitioning to the next chapter of my career," says Rogers. "I know together we will connect with my fans and new listeners with what I think is the best music I've written so far." "We are thrilled to work with an artist like Matt," says PLA President Pam Lewis. "He has a real talent for authentic country with a great voice and passion for storytelling, and we are confident that he will continue to grow and share his gift with country music fans." (Source: MusicRow.com)
GC'S CHRIS TAYLOR SIGNS WITH BIGFOOT MUSIC & OUTDOORS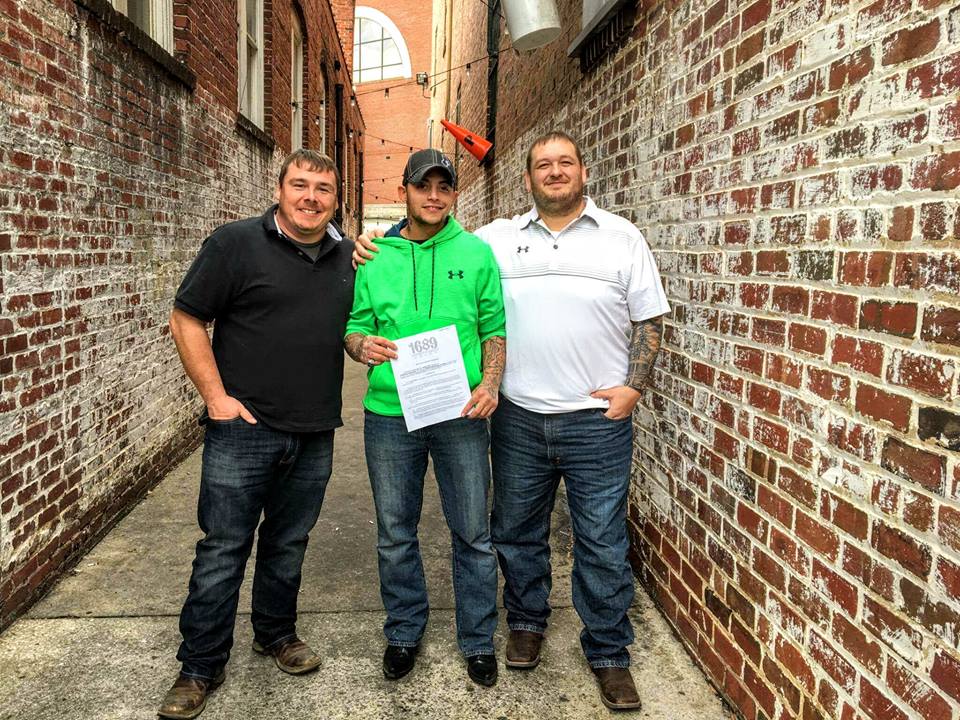 (Jan 17th) BIGFOOT Music & Outdoors and 1689 Entertainment Group have signed Georgia-Country.com's Chris Taylor to a 360 Development Deal. "We are very excited to have Chris on our Roster. We have been watching his progress for the last 4 years and we feel like now is the right time" John Roberson, CEO. BIGFOOT Music & Outdoors was formed and founded by seasoned and proven industry leaders. They offer turnkey solution for various artists and venues within the music and entertainment industry. They specialize in a wide variety of services that allow us to assist both artists and venues in finding their niche within the industry. (Pictured L-R) (Greg Hampton, Chris Taylor & John Roberson).
SMITH & WESLEY TO PERFORM AT GEORGIA INAUGURAL GALA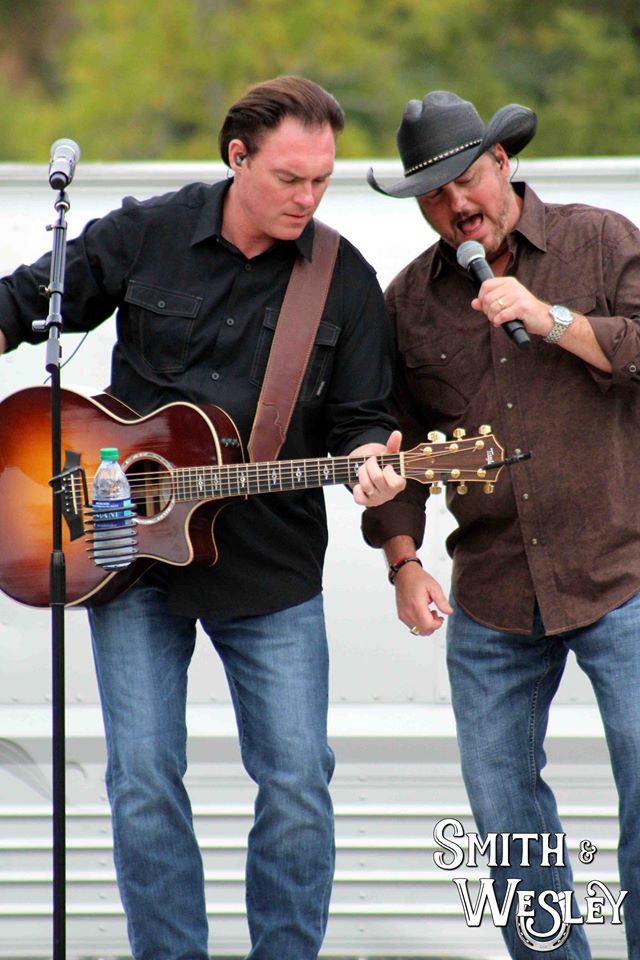 (Jan 16th) Georgia has long been a hot bed of country music, and the Peach State has invited two of its own - Scott and Todd Smith of the dynamic country duo Smith & Wesley to entertain at the Georgia State Society Inaugural Gala at the National Museum of Women in the Arts in Washington, DC on Thursday, January 19, 2017. "We're excited to announce that we're playing for our home state at the sold out Georgia State Society Inaugural Gala in Washington, DC," said brothers Scott and Todd. "We're looking forward to bringing our North Georgia roots to the festivities." (Source: Campbell Entertainment Press Release)
MOBY OF MOBY IN THE MORNING RETIRES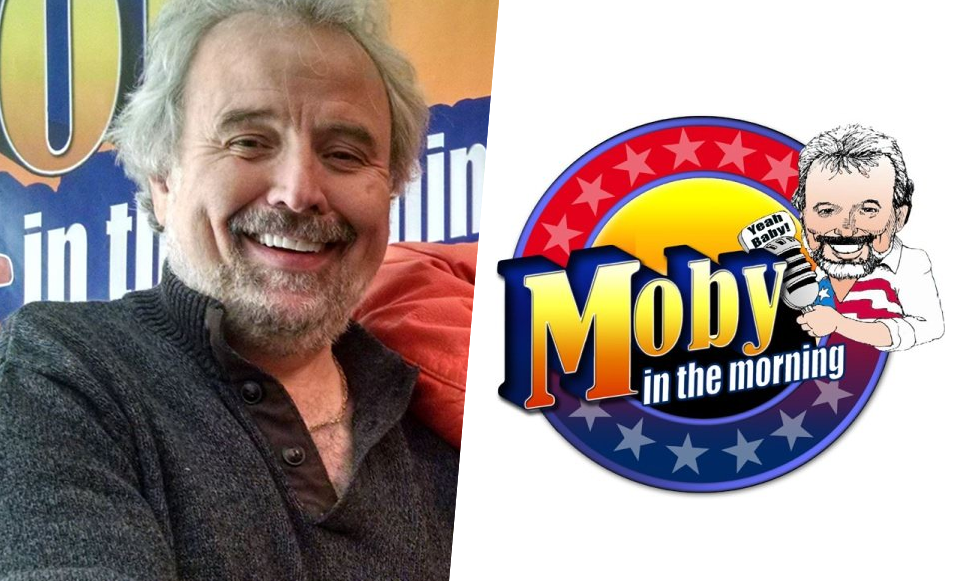 (Jan 4th) James "Moby" Carney took to his Facebook page to announce that he will end his syndicated morning show, "Moby In The Morning" on Friday, December 30. "If you haven't heard, I'm retiring next Friday," he said. "No 3:30 alarm clocks after 12/30/16. Happy New Year beloved radio cousins!" Moby has been heard on WBRB/Mount Clare, WV; WRBE/Lucedale, MS; WFDR/Mountain 94.5/Manchester, GA; KPFM, Country 105.5/Mountain Home, AR; WARM, South 93.5/Rome GA and KOEA, The Storm 97.5/Poplar Bluff, MO. He is best known for doing mornings on country WKHX, Kicks 101.5/Atlanta during the 1990s. After working at Rock WZGC, Z93/Atlanta he began his own syndicated Country morning show which lasted 12 years. He is a member of the Country Radio Hall of Fame nad the Georgia Radio Hall of Fame. (Source: AllAboutCountry.com)
MACON'S TREY TEEM IS NASH NEXT NATIONAL FINALS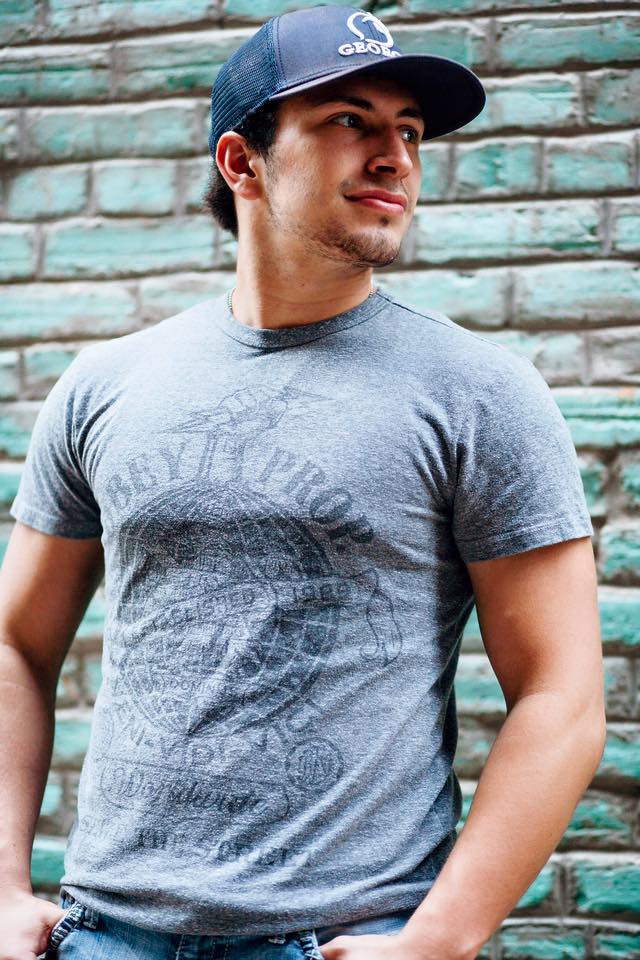 (Oct 12th) Cumulus Media has revealed the 10 country music artists selected as finalists in the NASH Next Challenge 2016. Macon's Trey Teem has made it to this top 10. The talent search and artist development program enlisted a celebrity panel, including Scott Borchetta, Kix Brooks, Jay DeMarcus and Danielle Bradbery, to whittle the finalists. The winner will receive a recording contract with Big Machine Label Group, their original song produced by DeMarcus, and national radio airplay on Cumulus Media radio stations across the U.S. The finals will take place during a three-hour public event Tuesday, Oct. 25 at 7 p.m. at Mercy Lounge in Nashville. (Source: MusicRow.com)
CAYLEE HAMMACK SIGNS PUBLISHING DEAL

(Oct 11th) Universal Music Publishing Group (UMPG) Nashville has signed an exclusive, global publishing deal with ASCAP songwriter Caylee Hammack. "When Cyndi Forman and Travis Gordon introduced me to Caylee and her music, I knew we had to sign her right away. She's the ultimate dual threat... an incredible lyricist and a phenomenal vocalist. We can't wait for Music Row to discover her special talent," said Kent Earls, UMPG Nashville Executive VP/General Manager. "I am humbled and happy to find a home for my music. Thank you to Universal, especially Cyndi and Travis, for taking me on and welcoming me into the family. I cannot wait to see what all we can do together," said Hammack. At 19 Hammack moved to Nashville from Ellaville, Georgia, and became a part of ASCAP's GPS Program, which led her to winning the ASCAP Foundation's Sammy Cahn award. The award is given each year to a promising and aspiring lyricist recommended by ASCAP Creative Service Executives and selected by a distinguished group of songwriters, based on the quality of the lyrics submitted. Past recipients include John Mayer, Lori McKenna and Katie Herzig. (Source: MusicRow.com)
KATIE DEAL RECOGNIZED BY ASE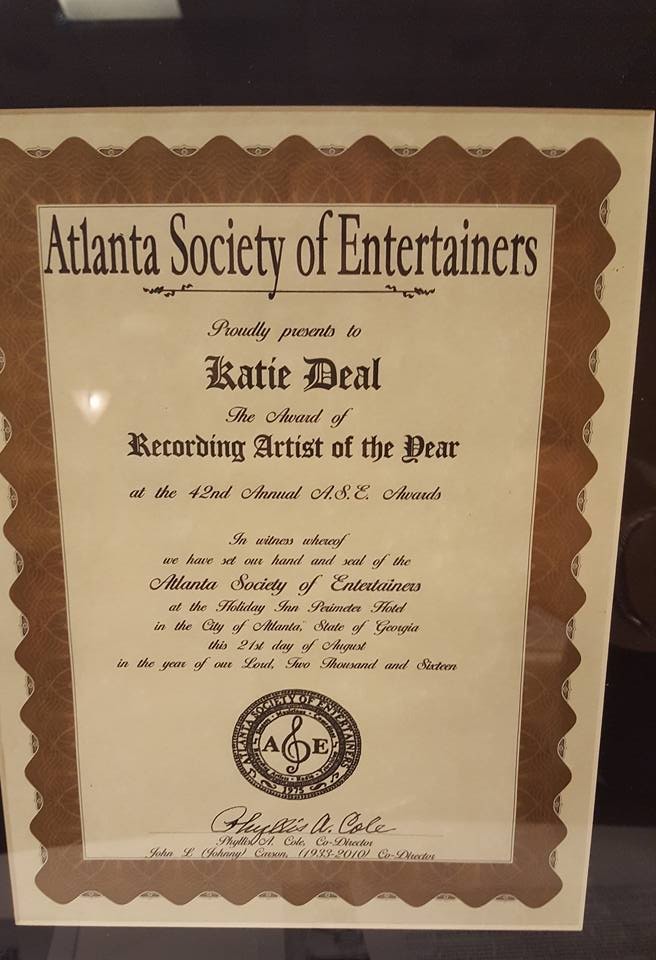 (Aug 24th) On Aug 21st, Katie Deal was honored by the Atlanta Society of Entertainers as their 2016 Recording Artist of the Year. Per Katie's Facebook page, "I was honored last night by the Atlanta Society of Entertainers as "Recording Artist of the Year" in large part due to my collaboration with Jason Petty and friends on our "Classic Nashville Roadshow" cd. If you don't have one of our cds yet, come see a show and get one! They'll also be available online very soon! Plus, much more to come!! Thanks to Peggy Taphorn and the Temple Theatre for allowing us a place to record and to DB Woolbright and Wesley Forelines for the great engineering and design work!"
TRAVIS DENNING SIGNS ADMINISTRATIVE DEAL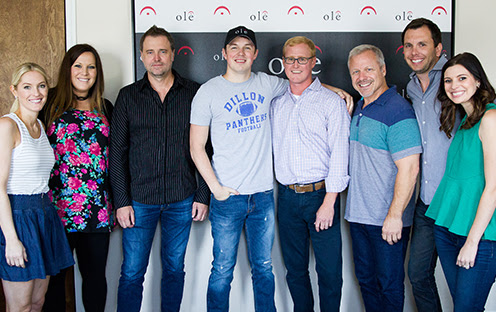 (July 15th) ole and RED Creative Group LLC have signed a deal with songwriter Travis Denning that gives ole exclusive administration rights to his music. Originally from Warner Robins, Georgia, Denning moved to Nashville in 2014. Within a year, he signed his first publishing deal with Jeremy Stover's RED Creative Group. Stover is an ole songwriter and record producer. Denning has secured two cuts on Justin Moore's upcoming album, Kinda Don't Care. He also co-wrote Chase Rice's new single, "Everybody We Know Does." His songs have been recorded by Jason Aldean and newcomer Jordan Rager. "Travis Denning has quickly established himself as a deeply gifted songwriter, and a terrific artist in his own right," says John Ozier, Vice President, Creative of ole. "We anticipate yet another fruitful collaboration with RED Creative Group, by way of our work with Travis." "Working with the best in the music business is very important to me," says Denning. "Collaborating with ole and RED Creative Group so soon is even better than I bargained for." (Source: MusicRow.com)
GEORGIA MUSIC AWARDS HONORS GEORGIA COUNTRY ARTIST

(May 27th) The 2016 Georgia Music Awards was held this past Saturday night, June 11th, at the Grand Opera House in Macon. The country awards winners were: Lance Stinson for Male Artist of the Year, Ryn Crider for Female Artist of the Year and The Dalton Gang for Band of the Year. The Georgia Music Awards honors artist and industry leaders in music in Georgia every year.
ZACH SEABAUGH FROM "THE VOICE" TO RELEASE NEW SONG

(May 27th) Marietta, Georgia based Country singer Zach Seabaugh will released one of his new songs, "Nothing Good Happens After Midnight" on iTunes June 1st, with a five song EP to be released later this summer. Seabaugh has been busy since his appearance on Season 9 of the hit NBC show The VOICE co-writing with Emmy winning song writer Bruce Burch and others to put together this EP of original music. He played the songs for the first time to a packed house at Eddie's Attic in Decatur, GA and received great reviews. The EP was produced by Paul Schoen of County Q Productions in Nashville, TN in conjunction with Open Roads Highway Entertainment. Zach's next live concert in Georgia will be at the Cobb Energy Center in Atlanta, June 15th. Joining him will be 'The Voice' finalist Emily Ann Roberts and special guest Eric Dodd to open the night. Get your tickets at www.TicketMaster.com www.zachseabaugh.com
KIRSTEN MCALPIN MOVES TO B100 IN ALBANY

(May 9th) Kirsten McAlpin has moved to B100 in Albany to become their Assistant Program Director and on-air personality. Her first day at B100 is today, May 9th. She was the midday dj at WTIF in Tifton for the last 4 years. Kirsten also has been a big supporter of local country music with weekly Friday live interviews and performances on WTIF. Kirsten also has been an emcee in the Georgia Country Awards.
COLUMBUS STATION FLIPS TO CLASSIC COUNTRY


(May 3rd) PMB Sports WBOJ-AM/Columbus, GA has flipped to Classic Country and will be known as "Kissin' Country Legends." The station will be simulcast via 250W FM translator W286BE. The signals are a brand extension fo the company's WKCN, Kissin' 99.3, the market's highest rated Country statoin in Nielsen's Fall 2015 diary survey with a 4.9 (5). iHeartMedia's WSTH received a 4.2 (7). (Source: AllAboutCountry.com)
WLUB AUGUSTA SWITCHES TO 105.7 THE BULL

(April 19th) Effective immediately, iHeartMedia Country WLUB/Augusta is now branded as "105.7 THE BULL" and added WLUB-FM HD2 "106.3 THE BULL ICONS". "THE BULL" will play today's hottest Country hits from Luke Bryan, Jason Aldean, Blake Shelton, Carrie Underwood, Sam Hunt, and more, while "THE BULL ICONS" will concentrate on offering Classic Country favorites from Garth Brooks, George Strait, Reba, Alan Jackson, and others. "We're excited to have the iconic BULL brand return to Augusta, giving Country fans two great choices with the best new Country on 105.7 THE BULL and all of your past favorites and classics on BULL ICONS at 106.3," said iHeartMedia/Augusta Region SVP/Programming Brian Michel. (Source: AllAboutCountry.com
JORDAN RAGER MAKES HIS GRAND OLE OPRY DEBUT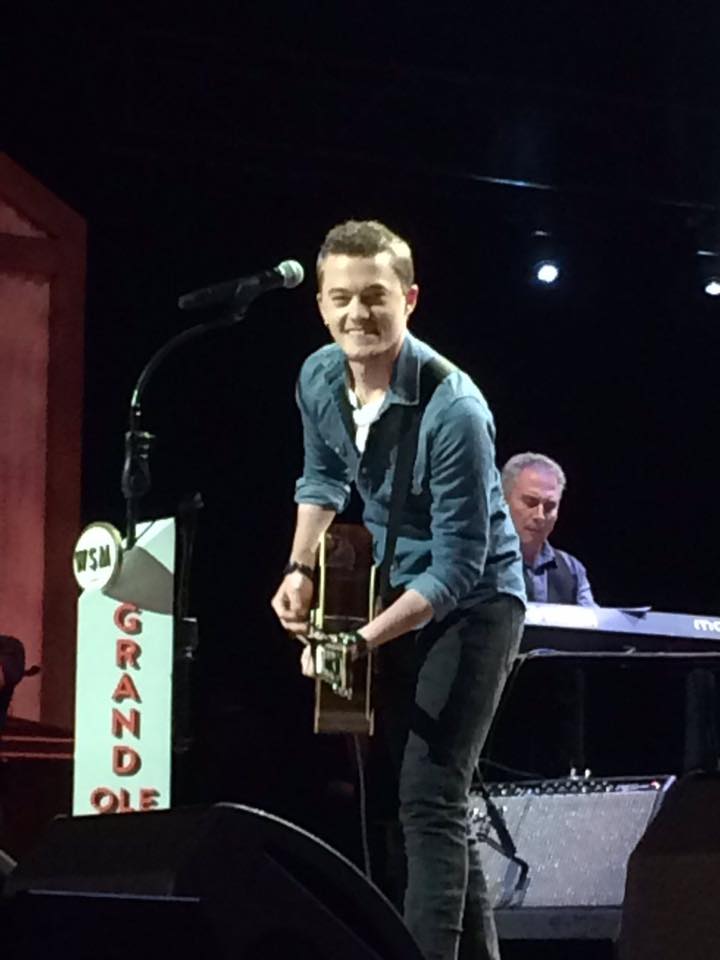 (April 11th) Loganville's Jordan Rager made his Grand Ole Opry debut this past Saturday night. Jeannie Seely introducted Jordan to the stage which is when he received a great applause. Jordan sung his chart debuting song with Jason Aldean "Southern Boy". Jordan also got to meet and share the stage with one of his idols, Eric Church.
GAINESVILLE'S BRUCE BURCH'S SONG COVERED BY LORRETTA LYNN

(April 5th) Gainesville Bruce Burch is well reknowned for his songwriting with many hits over the years with some of the Nashville biggest stars. Bruce now has one of his biggest song on country legend Lorretta Lynn's new album "Full Circle" which came out on March 4th. Lorretta covered "Wine Into Water" which was a big hit in the 90s from T. Graham Brown. "I was just cutting the grass one day, and the lyrics came to me," Burch said. "I knew I wanted to write this song with (Brown). It came together pretty quickly -- we wrote it in one sitting. It just fell out of the sky." Lynn felt connected to the song as well. Her late husband, Oliver Lynn, struggled with alcoholism, according to an interview the singer did with The New York Times. "I don't see nothing wrong with drinking, but when you get hooked on it, it's time to do something about it," Lynn said in the interview. "I would've liked to have sung ("Wine into Water") to my husband." The song has been recorded by other artists, but Lynn is the most recent to record it. She has performed the song for the past two decades on her tours. Lynn, a four-time Grammy winner, is best known for her song "Coal Miner's Daughter." "Finding out my song is on her album means more to me than anything," Burch said. "Loretta Lynn is one of my heroes." The lyricist said he was writing less frequently before Lynn recorded the song on her album, but now it has inspired him to pick up the pen again. To heard the song, please click on player below.
MARIETTA'S ANGIE KEILHAUER MAKES BLAKE SHELTON'S TEAM ON THE VOICE

(April 1st) Another Georgia singer has made waves on NBC's The Voice, following footsteps of others such as Jordan Rager & James David Carter, Angie Keilhauer. Watch video below to see her performance on The Voice. After being chosen by Blake Shelton, Ferrell & Adam Levine, Angie chose to be on Blake's team. Check back here often to see the progress of Angie.
JORDAN RAGER TO MAKE GRAND OLE OPRY DEBUT

(Mar 28th) Loganville's Jordan Rager will make his Grand Ole Opry Debut, next Sat night, April 9th. Being on the Grand Ole Opry is always a milestone for any country artist and Jordan's rapid rise in the last year is the reason. Since coming onto the national scene when appearing on The Voice on NBC and being picked by Blake Shelton, Jordan has toured with the likes of Justin Moore. In 2013, he signed a Broken Bow Records. His current single "Southern Boy" is a duet with one of his idols, Jason Aldean, which is now climbing the country charts on radio.