THE 2017 GEORGIA COUNTRY TEEN TALENT SEARCH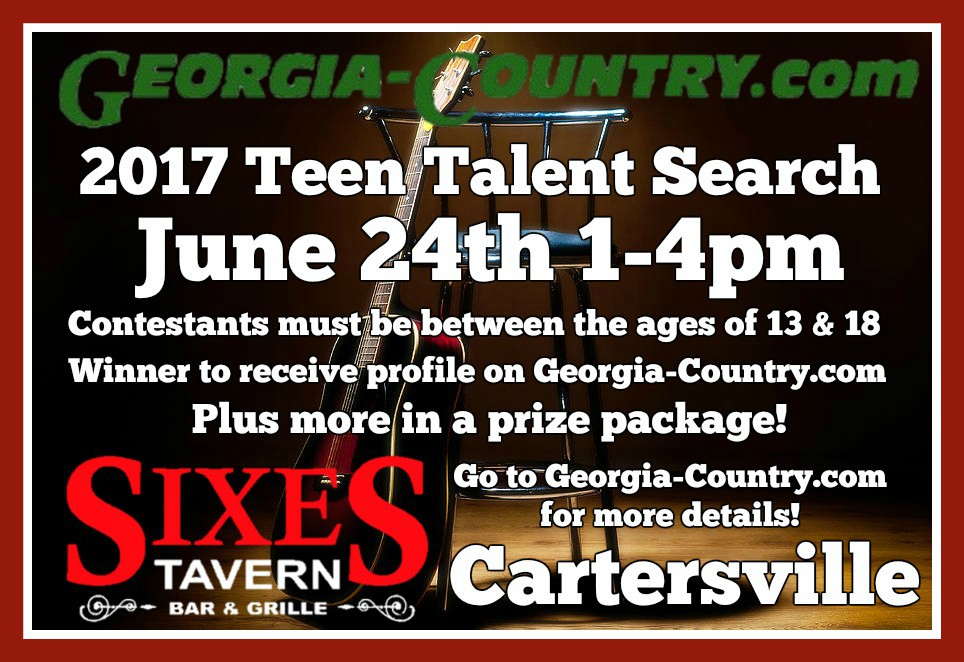 Georgia Country is looking for the new crop of great country talent in Georgia. If you are age 13 to 18 as of June 24th, you are eligible to compete. We are looking for country talent, only country songs will be performed. Each contestant will be required to play two songs, one ballad and one uptempo song. The songs can be a classic country hit or a song from today's charts. No originals as this time. Each contestant will be required to play their own music or have an accompanied musician. Acoustic only, no bands. Each contestant will be judged on vocal ability, stage presence and overall performance. Contestants will be able to use all of the stage for their performance. (All contestants will be judged by a combination score from the audience and judges).
(Note: Contestant can not be of relation with anyone on the staff of Georgia-Country.com, Sixes Tavern or any of the judges. If any violations are uncovered during the contest, contestant will be disqualified).
Winner will be profiled on this page on Georgia-Country.com. If the winner has any professional recorded songs, they will be played also on this page. They will win a professional photo session. Their pictures and videos from the contest and and other sources to profile the winner, will be on this page as well.
The contest will be held Saturday afternoon, June 24th from 1 to 4, at Sixes Tavern in Cartersville (NW of Atlanta). If registration is too great for just a one day contest, a second round will be added as well as the finals. (Dates to be announced before June 24th if needed). Contestants will be accepted on a first come, first serve basis. Meaning if a second round is added, you'll be notified if your performance date will be during the second round.